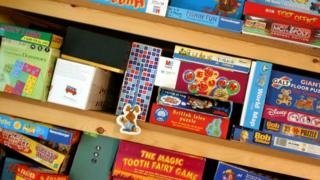 Fewer toys were bought in 2013 compared with the year before, new figures reveal.
Last year around 364 million toys were bought in the UK.
Sales of 'pocket money' toys went down the most.
That suggests parents are saving up for big birthday presents rather than buying lots of small ones.
Your comments
I prefer having one big toy because you get more use out of it.
Ajay, Surrey, England
I like all toys especially arts and crafts but I do prefer to save up for more expensive toys.
Beth, England
I would prefer to have bigger toys but I also like small fun toys.
Hamnah, Walsall, England
I don't like cuddly toys, I prefer presents like phones and cameras that I will use for ages. I feel like if I have cuddly toys I will grow out of them and stop playing with them in a few months
Annabelle, Thornhill, Scotland
I think smaller toys are better as they don't cost as much and they are sometimes more fun.
Joslyn, Dornoch, Scotland
Well I think that it's better to have lots of smaller things because usually they are more entertaining and you have a load of different things!
Jack, Birmingham, England
I would rather big toys. Small toys you can get so many they take over your room. Small toys get boring after a while. Big toys you can have multiple games for whereas small toys are normally just one.
Catriona, Dornoch, Scotland
It doesn't matter for me, but as long as the quality is good, I will buy it. There's no point to buy a big, expensive one if it's easily broken.
Farsya, Birmingham, England
I would prefer to have lots of small toys so I don't have to wait a long time to get a big toy while I am saving up.
Gwion, Cardiff, Wales
I think fewer toys were sold because now more kids have iPads and smartphones so they can play on them instead.
Anna, London, England
I would rather have lots of small ones because if you get bored of your big toy you do not have another one to play with. If you have lots of small ones you can play with different ones every day.
Phoebe, Hull, England
I prefer lots of little presents because I think you get more use out of them.
Maddie, Bath, England
I would rather have one big toy. The bigger the better!
Lexi, Leicestershire, England
I prefer little toys because you get a lot more!
Alex, Cleckheaton, England
I prefer to save up to have one big toy, that way it gives you something to look forward to.
Mario, Manchester, England
My parents don't like me getting expensive toys so I get cheaper ones although I do save up and buy more costly ones. All of friends however, have all grown out of toys and all they play are computer games and apps.
Nia, Dorset, England
Instead of lots of big toys we got some little ones then one big one like a tablet.
Amber, Bolton, England
I like small cuddly toys.
Jade, Dunoon, Scotland