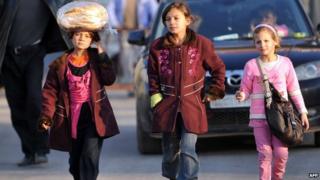 AFP
The United Nations is facing a new problem with peace talks it has arranged to try to end the war in Syria.
It wants to get the Syrian government talking to the people who want them out of power, but the main group against the Syrian government has said it won't take part.
The group is unhappy that the UN has invited officials from nearby Iran to the talks.
Iran has supported Syria's government in the war, providing weapons to President Assad's forces.
But the UN wanted Iran to be part of the solution. Urgent talks are now going on to sort out the issue.
Civil war
A civil war has been raging in Syria for nearly three years between government forces and the people who want them out of power.
Thousands of people have been killed and millions more have fled the country.