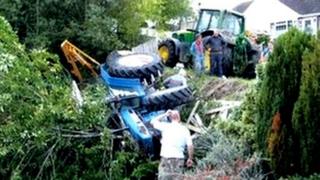 A runaway tractor narrowly missed a house when the brakes failed with only the farmer's dog, Mollie, in the cab.
Henry Selway, 77, parked his tractor at the top of a hill in Colyton, Devon, while he went for lunch.
But the tractor's handbrake failed and the vehicle hurtled down a steep road.
Molly the collie was uninjured when the tractor crashed through a garden fence, and came to rest in a garden.