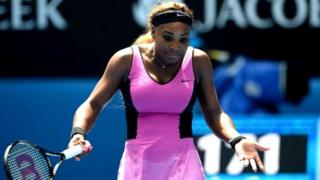 AFP
Number one seed and strong favourite Serena Williams has been knocked out by Serbia's Ana Ivanovic at the Australian Open in Melbourne.
Ivanovic came back from a set down to win 4-6 6-3 6-3, her first ever victory over Williams in five attempts.
Williams had been suffering from back problems in the run up to the match.
The world number one has won the tournament five times before. It's only the sixth time ever she has lost a match after winning the first set.
She said, "I almost pulled out. I'm such a competitor, I probably should have,"
"I don't want to blame anything. I feel like Ana deserves all the credit."