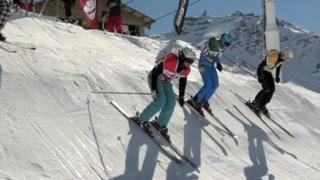 Ski Crosser Emily Sarsfield in action
It's not long until the Winter Olympics kicks off in Sochi so Newsround's been chatting to Emily Sarsfield, one of the British hopefuls.
Team GB have been told they're expected to win at least three medals at the Winter Olympics by UK Sport.
That would be Britain's best medal haul at a Winter Games since 1936.
With future funding for individual sports based on performances at the Games, medals could literally be worth their weight in gold.
One woman hoping to come home with a gold medal is Ski Crosser Emily Sarsfield...
Watch more Newsround videos