Firefighters are battling a 15,000-tonne tyre fire at a recycling plant in Yorkshire.
About 70 firefighters have been tackling the fire since 8.30am and the smoke is so huge that it can be seen from space.
Nigel Hutchinson, the county's fire chief said the cause of the blaze was not yet known.
He added that the fire at Newgen Recycling in Sherburn-in-Elmet might go on for days.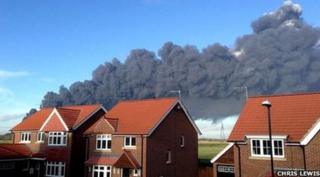 Chris Lewis
Residents and school pupils were told to stay indoors as fumes rose over nearby villages.
An eyewitness who works at a nearby airfield told the BBC that he could see flames the height of the hangars at the airfield - at least 20-30ft (7-10m) high.
"It's absolutely colossal. It's like a tornado when you look at it close up, with the heat swirling and all the rest. It's absolutely amazing," he said.
Some flights at the airfield could not take off because of the smoke.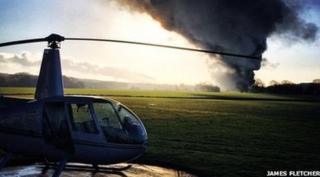 James Fletcher
Twelve schools and a children's centre were told to keep staff and pupils inside, according to North Yorkshire County Council.
But, Police said because the smoke is high in the sky the risk to the public is low.