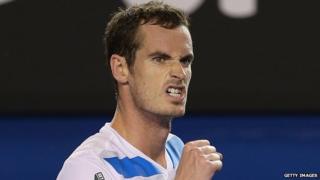 Getty Images
Andy Murray won six games in a row to overcome a 5-1 third set deficit to beat French opponent Vincent Millot 6-2 6-2 7-5 at the Australian Open tennis.
The British number one ended the match by winning 23 consecutive points after Millot had dominated much of the third set.
Andy will now face Spain's Feliciano Lopez in the third round.
Earlier in the day play had been stopped on some courts due to the extreme heat of the Australian summer.
Pictures: Cooling tricks at Australian Open
Andy's brother Jamie had to be treated for heatstroke after winning his doubles match.
After the impressive finish, Andy said: "I have been in the final here three times, I love it here, and I don't know if this will be my year but I will do my best.
"Millot played unbelievably in that third set, hitting winners from the baseline. I had to adjust the way I was playing, and he's ranked 270 in the world. It just showed the depth in men's tennis.
"This heat, coming from Scotland, is not easy! It's been tough, very humid tonight and the court slowed down a lot. But I think we've passed the worst of the weather and hopefully it will now drop to an acceptable temperature."