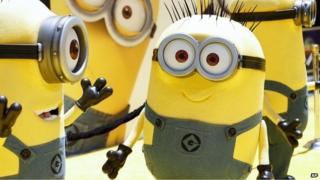 AP
Gru and his minions are set to return to the big screen in Despicable Me 3.
Universal, the film company behind the movie, confirmed its release but we'll have to wait until June 2017 to see it.
Despicable Me 2 was the UK's biggest box office hit in 2013 and made an estimated £561 million worldwide since being released last year.
It tells the story of international villain Gru being recruited by the Anti-Villain League to help deal with a powerful new super-criminal.
The film was named in the best animation category at the Golden Globes and has been nominated for a Bafta award too.
Pharrell Williams' track Happy, which was written for Despicable Me 2, is currently number one in the Official UK singles chart.
The original Despicable Me film was released in 2010.
Details of the plot for the new film have yet to be unveiled, but you can bet there'll be more crazy adventures with our favourite characters.
Universal have also announced that an animated big screen version of Dr. Seuss' How The Grinch Stole Christmas will be released in November 2017.