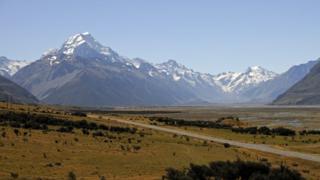 New Zealand's tallest mountain has shrunk by 30m but is still the highest in the country.
A new study of Mount Cook - also known at Aoraki - shows it is 3,724m (12,217ft) down from 3,754m.
It's thought that the top has been worn away after a collapse of rocks and ice in 1991 left the summit open to the elements.
Scientists used GPS and photos taken at the time to find out more about the mystery of the shrinking mountain.
Dr Pascal Sirguey of the Otago National School of Surveying which carried out the assessment said:
"By carefully studying photos taken after the collapse, it appears that there was still a relatively thick ice cap, which was most likely out of balance with the new shape of the summit ridge."
"As a result the ice cap has been subject to erosion over the past 20 years."