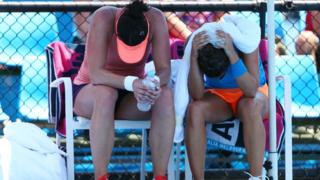 Play back on after extreme heat at Open
Extreme heat stopped some matches at the Australian Open in Melbourne after temperatures hit more than 40 degrees Celsius.
Players had been using ice packs in a desperate bid to keep cool, but in the end the heat was too much and all players were told to finish their current sets and come off outside courts.
The roofs on the show courts were closed to protect players from the heat so that matches could go on.
Play has started again now the temperature has dropped.
BBC reporter Jon Donnison is in Melbourne and sent this report.
Watch more Newsround videos