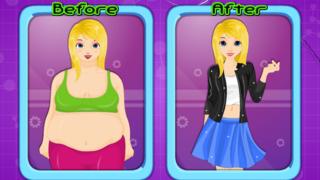 A charity has spoken out about games based on plastic surgery themes, describing them as 'dangerous'.
Players are presented with a figure of a girl and are invited to "fix" her, making her thinner using surgery techniques.
Eating disorder charity Beat says games like this send out a bad message.
It comes after Apple and Google removed a version aimed at kids aged nine and older.
Earlier this afternoon we told you that a very similar version was still available aimed at kids aged 12 and above.
Since then, Apple appear to have removed that one too. But, Susan Ringwood from B-Eat told Leah earlier that they are concerned.
A Google spokesman said: "We don't comment on individual apps, but will remove apps that breach our guidelines."
Newsround asked Apple to comment too, but they haven't replied.