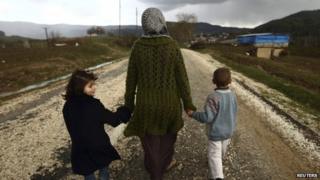 Reuters
The head of the United Nations, Ban Ki-Moon, says half of Syria's population "urgently need humanitarian aid."
This is equal to around 9.3 million people and the UN said they need £4 billion over the coming year to help them.
This is the UN's biggest ever request for a single crisis.
Ban Ki-Moon was speaking at a special conference in Kuwait, which has been held in the hope of raising the money that's needed.
Guide: What is happening in Syria?
Mr Ban said the conflict, which began in 2011, had "set back Syria years, even decades".
He said he was especially concerned by violence and by reports of starvation in communities that are trapped by fighting.
The UN estimates that nearly 8 million people have been driven from their homes; 4.25 million of those are still in Syria and around 2.9 million others have fled to nearby countries.
The UN says more than 100,000 people have died since the uprising began.
Guide: What to do if the news upsets you
Money raised so far
So far the following countries have promised money at the conference:
Kuwait announced a pledge of $500m (£304m)
Saudi Arabia pledged $250m (£152m) and Qatar $60m (£36m)
The US promised $380m (£231m) in new contributions
EU countries as a whole have pledged $753m (£459m)
Norway said it would contribute $75m (£46m)
The UK pledged a further $164m (£100m), bringing its total contribution to $985m
Those pledges represent roughly a third of the amount the UN says it needs.