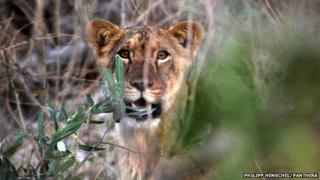 Philipp Henschel/Panthera
There has been a big drop in the number of lions in West Africa, with only around 400 left in the region, a new survey suggests.
Experts say they are worried this could one day mean there will be no lions left in the area.
The research by Panthera, a non-profit organisation, was carried out in 17 countries, from Senegal to Nigeria, and took more than six years.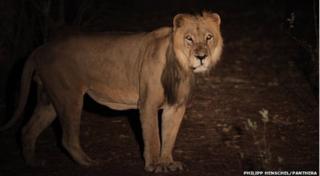 Philipp Henschel/Panthera
West African lions now survive in only five countries; Senegal, Nigeria, Benin, Niger and Burkina-Faso.
'Genetically distinct'
West African lions are genetically distinct from other lions in Africa - this means they have different genes to other lions.
Panthera is now calling for West African lions to be listed as 'critically endangered'; this could help with conservation efforts.
The group want more funding to train people up to protect the lions, they also want the areas where the lions live to be protected.
The researchers say the majority of the lions' habitat has been turned into farms for food or cotton.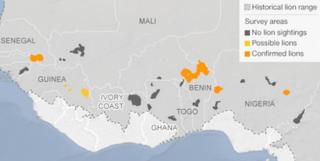 Philipp Henschel, one of the authors of the report said: "Our results came as a complete shock; all but a few of the areas we surveyed were basically paper parks, having neither management budgets nor patrol staff, and had lost all their lions and other iconic large mammals."
He said the lions were also struggling because humans were eating the food the lions usually eat.
Help is needed
The International Union for Conservation of Nature (IUCN) says international help is urgently needed.
Governments in Benin and Senegal are working with the research team to draw up a National Lion Action Plan to find ways to save the lions in their countries.
Panthera's President Luke Hunter said: "to save the lion will require a massive commitment of resources from the international community."