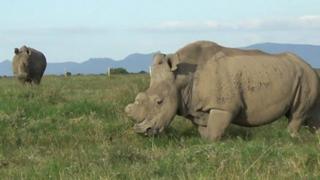 Drones being tested to protect rhinos
Rhinos in Kenya could soon be protected by remote controlled helicopters kitted out with the latest gadgets.
A team of US engineers from Airware travelled to Kenya to test their drones in East Africa's largest black rhino sanctuary, Ol Pejeta.
Their remote controlled drones can fly anywhere in the park, sending live video back to base.
The drones also have a heat detecting camera which makes animals and poachers easy to spot.
It's hoped devices like this will help park rangers keep a close eye on their animals, and deter poachers from hunting in the park.
Airware boss Jonathan Downey said: "We still have more development to do but we're extremely encouraged and quite proud to be pioneering drones that can preserve some of our planet's most threatened species."
Watch more Newsround videos