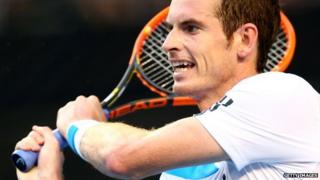 Getty Images
Britain's Andy Murray made the ideal start to his Australian Open campaign with a quick win over Japan's Go Soeda in searing heat.
In temperatures above 40C, the Wimbledon champion took just 87 minutes to ensure his place in round two, with a 6-1 6-1 6-3 victory.
Andy will face France's Vincent Millot, the world number 267, in round two.
Today's match was only his third competitive match since the Scot's comeback from back surgery.
Andy hit 12 Aces and 32 winners in a dominant display over the Japanese world number 112.
Too hot to play?
The Australian Open is played in the height of summer Down Under. Conditions in Melbourne have been so fiercely hot that a plastic water bottle melted on-court, and spectators have suffered burnt backsides from super-hot plastic seats.
Spectators have been queuing in front of large electric fans that blast water at their faces, while defending women's champion Victoria Azarenka described the heat as like "dancing in a frying pan".