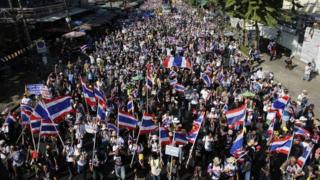 Reuters
Thousands of protesters have blocked major roads in the capital of Thailand as part of a campaign against the government.
The campaigners have been marching through the streets of Bangkok, and holding rallies, to try make the Prime Minister Yingluck Shinawatra and the government step down.
It's part of a campaign that's been running since November because the protesters don't agree with the way the prime minister is running the country.
The government says it wants life to carry on as normal through the shutdown and has ordered extra trains to take people to the city and provided thousands of extra parking places outside the city centre.
About 150 schools have had to close too.
The protesters say they will stay in place for several days.