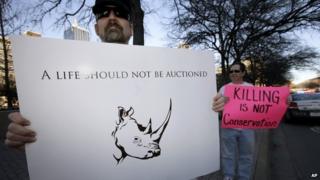 AP
A US hunting group has sold off the chance to hunt and kill an endangered black rhino in Namibia for £212,000.
Dallas Safari Club claims all the money raised will go towards helping rhino conservation.
The winning bidder has not been named.
But animal groups have hit out, saying it's wrong to kill endangered animals.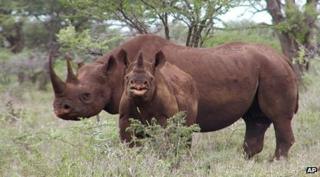 AP
It's the first time such a permit has been sold outside of Namibia in southern Africa.
It allows the killing of an older male rhino that's not breeding anymore.
The auction organisers say such animals are actually a threat to younger rhinos, which they sometimes charge and kill.
But the International Fund for Animal Welfare's Jeffrey Flocken said: "This auction is telling the world that an American will pay anything to kill their species."