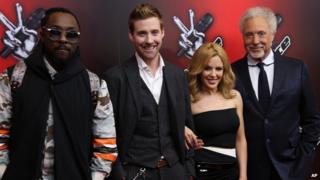 AP
The Voice has returned to our TV screens, with new coaches Ricky Wilson and Kylie Minogue making their debuts.
Saturday night's show had an average of 8.4 million viewers, according to overnight figures - over two million more than last year's opener.
It beat Tom Daley's Splash! on ITV, which got an audience of 3.7 million.
The singing talent show suffered falling ratings last year, so it's hoped Ricky and Kylie will help bring in more viewers.
The new two coaches each brought their own antics to Saturday night's show, including Kylie hiding behind her chair and Ricky Wilson doing a cartwheel!
There are also two new hosts - JLS star Marvin Humes and Emma Willis.
What did you think?
What did you think of Ricky and Kylie's first appearances?
Have they brought new life to the show, or are you missing Danny O'Donoghue and Jessie J already?
If you're a fan of The Voice, why not have a go at our Kylie Minogue quiz or Ricky Wilson quiz?
This chat page is now closed. Thanks for your all your comments.
Your comments
I think that Kylie brings more experience to the coaches and the Kaiser Chiefs are one of my favourite bands so I am happy to see Ricky there. The show is also quite funny and most of the singers are really good.
George, Macclesfield, England
I am an ENORMOUS fan of Kaiser Chiefs (I went to see them last year) so I can't tell you how excited I was when I found out that Ricky was going to be on The Voice! I think that Kylie and Ricky are better judges because they are more relaxed and less competitive. They both seem to really care about the artists and I think that they will be great mentors!
Alexx, Rugby, England
I really miss Jessie J, she was the best. It won't be the same without her.
Jaipreet, Braintree, England
The Voice was boring because Danny out of The Script wasn't in it.
Billy, Manchester, England
I've watched every series of The Voice and I think this one is going to be the best yet. Ricky is so funny but Kylie is definitely in charge! All the coaches will be great mentors.
Scarlett, Cornwall, England
Ricky and Danny are really similar in how they took contestants. But I think Kylie is better than Jessie J because she is really funny and I laughed every time.
Farsya, Birmingham, England
I liked Kylie and Ricky and they will be amazing mentors but I really miss Jessie and Danny. I think Kylie and Ricky are really funny and good replacements for them.
Aoife, Gosport, England
I found The Voice quite boring because of Kylie and Ricky. They should've just kept it to Jessie and Danny.
Nathan, Stevenage, England
I think The Voice is better now that Kylie and Ricky are on it. The judges seem to get on well together which is nice to see.
Corey, Omagh, Northern Ireland
What are you all saying? The Voice was WAY better last year, but Leah should have won. Jessie and Danny were great coaches and judges, I miss them!!!!!!!!!!!!!
Hannah, London, England
I watched The Voice for 10 minutes and then turned over because it isn't the same without Jessie J and Danny.
Megan, Blackpool, England
I was so excited about the new series, I got The Voice app. But there was too much talking and not enough singing!
Ally, London, England
I only watched a bit of The Voice but I think they can probably get their ratings up this year. In my opinion, I think no talent show is complete without Simon Cowell.
Najma, London, England
I thought it was really good! I liked the first boy on there who sang Cant Get You Out of My Head. If I were on there, I would definitely go on Kylie's team!!
Amy, Kent, England
I liked The Voice last night but if the panel was will.i.am, Kylie Minogue, Jessie J and Tom Jones I think it would've been better. Congratulations Marvin Humes of JLS for his first hosting gig.
Archie, Essex, England
I really loved The Voice last night. Ricky, you're better than me at cartwheels! I really like Ricky. I have kind of a crush on him. I LOVE THE VOICE!
Megan, England
The Voice was good but I think last year's Voice was much better with Jessie and Danny. But I love the new judges.
Saara, Bolton, England
I prefer The Voice with Kylie and Ricky because I think they are funnier!
Beth, Sheffield, England
I watched The Voice last night for the first time and thought Kylie and Tom were lovely. Ricky was flirting with all the girls.
Sophie, Desborough, England
I watched Splash! and Take Me Out instead. The Voice doesn't interest me.
Charlotte, Kent, England
It was very good. I think Ricky is amazing, he is going to have a full team very soon.
Tom, London, England
I only watched a few episodes of The Voice before and wasn't that keen on it, but I have to say that now Kylie is on it I'm hooked.
Steven, London, England
I think that Kylie and Ricky are doing really well on The Voice. They both have the same number of people in their groups and they are really popular.
Aimee-Lou, Brighton, England
The Voice was boss!!!! I think this series is already better than the last.
Noel, Widnes, England
I think that Kylie was really nice to the kid that was on the stage and Ricky is going to have a full team soon. Ricky is very nice but Kylie keeps on saying that she should push the button.
Charlotte, Holywell, Wales
I think they are amazing judges, the show is funny now. By far my favourite TV programme! Jessie J was an okay judge but she kept showing off that she could sing different. Ricky is a good judge!
Jamire, London, England
I was really happy when I heard that Kylie Minogue was going to be on the show but I am quite sad that Danny is not on the show anymore as it's not the same without him. Although I did like Ricky's cartwheel.
Ella, Brighton, England
I think that Kylie and Ricky are really cool for on The Voice as they are both very popular artists. I will miss Danny and Jessie, but I think that Kylie and Ricky will do amazing jobs as mentors.
Hollie, Croydon, England