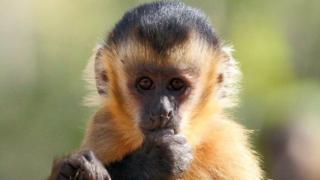 Wild Brazil producer on filming show
Imagine a job where you get to hang out with monkeys, otters and jaguars, watching their every move and capturing them on film.
Well, BBC series producer Adam White has been doing just that for a new TV nature show called Wild Brazil.
He's spent just under two years working on the three-part series.
It focuses on three iconic animals from Brazil - capuchin monkeys, giant otters and coatis.
Adam talks about why this trio was chosen, and reveals which animal was only found after scanning 10,000 miles of riverbank!
Watch Martin's interview with Adam for more.
Wild Brazil starts on BBC Two on Tuesday at 9pm.
Watch more Newsround videos