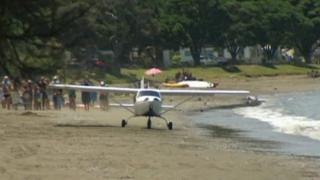 Plane lands on beach in New Zealand
The last thing you'd expect to see while relaxing on the beach is probably a plane landing!
But a small aircraft had to make an emergency landing on a beach in New Zealand on Friday, because of an engine problem.
It tried to take off again after some repair work but crashed into the water!
Hundreds of people were on the beach at Martins Bay, but thankfully no one was injured.
Watch Martin's report for more.
Watch more Newsround videos