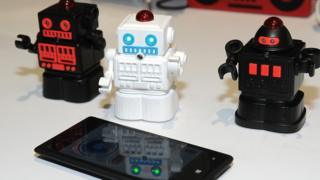 AFP
From bendy televisions to food printers the latest gadgets have been on show all this week at the Consumer Electronics Show (CES) in America.
The Las Vegas event is where companies show off the high-tech future stuff we could all soon be buying.
BBC technology correspondent Rory Cellan-Jones has been out there and he kicks off our special round up of what the experts, and our own Ricky and Leah, think are the highlights from the show.
Tech reporter Rory Cellan-Jones
BBC reporter Rory Cellan-Jones took a peek at a 3D sweety printer for us!
Tech expert Tom Cheesewright
Leading expert Tom Cheesewright took time out to tell Newsround his top 5 gadgets from CES - including bendy phones and house appliances that know when you're there.
Newsround's Ricky and Leah
And Ricky and Leah tell us their favourites and come up with a gadget idea of their own.