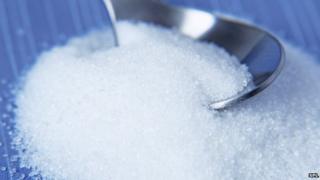 Spl
A new campaign group is calling for food and drink companies to cut the amount of sugar they add to their products.
Action on Sugar wants to tell people about "hidden sugars" in everyday foods, such as flavoured water, sports drinks, yoghurts and ketchup.
It's asking the food industry to reduce sugar bit by bit, so that people don't notice the difference in taste.
The group thinks it will help to tackle obesity and diabetes in the UK.
The Action on Sugar chairman is Professor Graham MacGregor, who works in heart medicine.
He said: "This is a simple plan which gives a level playing field to the food industry, and must be adopted by the Department of Health to reduce the completely unnecessary and very large amounts of sugar the food and soft drink industry is currently adding to our foods."
Some popular foods and their sugar content
A can of Coca-Cola or Pepsi (330ml) - 9 teaspoons
Mars chocolate bar (51g) - 8 teaspoons
Solero Exotic ice cream (88g) - 4 teaspoons
Heinz tomato soup (300g) - 4 teaspoons
Starbucks caramel Frappuccino with whipped cream (with skimmed milk) (tall/small size) - equivalent of 11 teaspoons of sugar
Source: Action on Sugar