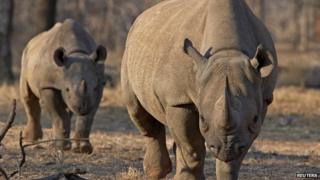 Reuters
A US hunting group is to sell off the chance to shoot and kill an endangered black rhino in Namibia, Africa, to the highest bidder.
Dallas Safari Club claims all the money raised from the permit auction will go towards helping rhino conservation.
But some animal groups have hit out saying it's wrong to kill endangered animals.
The hunting permit is being sold at club's annual meeting on Thursday and could raise up to £600,000.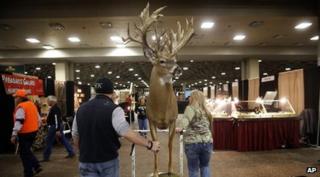 AP
The International Fund for Animal Welfare's Jeffrey Flocken said: "This auction is telling the world that an American will pay anything to kill their species."
He says a better idea would be to make a secure habitat that allows people to pay and see the animal.
But Ben Carter from the Dallas Safari Club says that killing an older rhino can actually help to protect the rest of the herd.
He said: "These bulls no longer contribute to the growth of the population and are in a lot of ways detrimental to the growth of the population because black rhinos are very aggressive and territorial.
"In many cases, they will kill younger, non-breeding bulls and have been known to kill calves and cows."