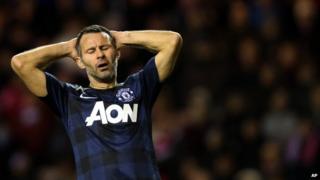 AP
Manchester United have suffered their third straight defeat.
They lost 2-1 to Sunderland in the League Cup semi-final first leg in the Stadium of Light on Tuesday night.
It's the first time since 2001 that United have had three losses in a row.
An own goal from Ryan Giggs in first-half injury time put Sunderland ahead, before Nemanja Vidic levelled with a header after half time. The decider came from a penalty by Fabio Borini.
Sunderland take a one goal lead into the second leg match on 22 January.
Manchester United lost 2-1 to Swansea in the FA Cup third round on Sunday, and 2-1 to Tottenham in the Premier League on New Year's Day.