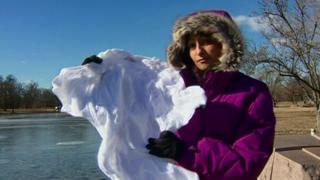 T-shirt freezes in cold US weather
America has been gripped by an Arctic blast of air, with all 50 states recording freezing cold temperatures.
The big chill has affected almost 190 million people and shattered records across the country.
In Kentucky, an escaped prisoner gave himself in to get out of the cold!
Watch this clip of BBC correspondent Rajini Vaidyanathan in Washington DC, where it's -12C.
She gives us an idea of the cold there by pouring water over a T-shirt and showing how it's frozen solid!
Watch more Newsround videos