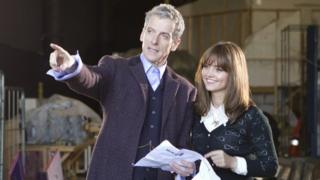 Check out this behind-the-scenes photo of new Doctor Who star Peter Capaldi on set with co-star Jenna Coleman!
The latest Doctor started filming for series eight of the sci-fi show in Cardiff, Wales, on Tuesday.
In the picture, it looks like he's wearing Matt Smith's costume after regenerating.
Capaldi said: "New job, first day, slightly nervous. Just like the Doctor, I'm emerging from the Tardis into a whole other world."
Five facts about Peter Capaldi!
Show boss Steven Moffat said: "First the eyebrows! Then, at Christmas, the face! Coming soon, the whole Doctor. In the Cardiff studios, the Capaldi era begins."
Viewers saw a glimpse of Capaldi at the end of the Christmas special.
Series eight is set to hit our TV screens in the autumn.