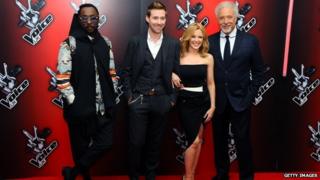 The Voice returns to our screens this Saturday hoping to reverse a recent trend of falling viewing figures for TV talent shows.
The show was not alone in suffering lower than anticipated ratings last year. Makers of X-Factor were disappointed when their pre-Christmas live final pulled in less than 10 million viewers and the Strictly Come Dancing semi-final attracted the lowest figures in four years.
So we want to know if you still watch TV talent shows?
Thank you for your Comments. This chat page is now closed.
I like talent shows, but not as much as I used to. I think it's because things like the X Factor and Strictly Come Dancing are in their tenth year so the format is a bit old. Even though The Voice is newer, I don't think it's as popular because after the blind auditions, the concept doesn't really work.
Holly, Chester, England
I only watch The X factor and Britain's Got Talent because the auditions are either funny, rubbish or really good. Also without the X Factor, One Direction would not exist.
Ellie, Retford, England
Personally, I don't watch talent shows because each and every year they repeat the same concept and dramas.
Amina, Bradford, England
I personally love kids talent shows like the Junior Bake Off and Who Let The Dogs Out because I can see what incredible things children my age can do!
Dana, London, England
I watch Strictly Come Dancing, Splash and The Voice. I used to watch The X Factor and Briton's Got Talent until 2011, but then got bored. I prefer shows where the contestants actually have talent!
Scarlett, Cornwall, UK
I used to watch them, but I don't anymore. Most of the acts are forgotten about after a year.
Marina, Huddersfield, England
Nowadays they are always on the television so I don't watch them as much.
Síofra, Dublin, Ireland
I prefer talent shows like Britain's Got Talent because the auditions are so funny!
Scarlet, London, England
No, I really hate talent shows. It's the same thing year after year and they are SO dull. It gives a bad impression, as well, it makes kids think that they have to have a good voice or be good dancer to be successful in life. I'm glad that they are getting less views.
Diamond, Durham, England
I do watch The Voice and Britain's Got Talent, but The X Factor is a bit boring now. Out of all of them my favourite is Splash just because I love swimming and Tom Daley!
Maisie, Romsey, England
I don't like The X factor and Britain's Got Talent, and I got bored with the Voice during the first series, but I love Strictly Come Dancing!
Olivia, Northern Ireland
I still do watch them, but I don't think that we need any more because then there will be too many.
Grace, Rickmansworth, England
No, I'm fed up with them. They are the same old thing year after year.
Molly, Durham, England
I hardly ever watch the X Factor or Strictly Come Dancing, but I watch The Voice, and I love it.
Hannah, Luxembourg
I love TV talent shows and I watch them all the time.
Kitkat, Brighton and Hove, England
If you send us a comment, it may be published on the Newsround website, and some comments may be used in our TV bulletins. We'll use your first name and your home town to show that it's your comment; your personal details won't be used for anything else.