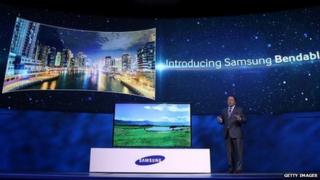 Samsung has unveiled a prototype of its new 85 inch Bendable TV at the Consumer Electronics Show in Las Vegas.
The TV has a curved screen which can be adjusted by remote control.
The new technology means the person watching can bend the screen to accommodate how many people are watching and how far away they're sitting.
So far, Samsung hasn't revealed any plans to put the TV on sale.
LG has also announced that they'll unveil a smaller 77 inch flexible TV.