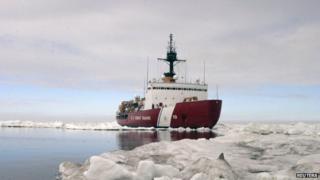 A US ice-breaker has been asked to help two ships that are stuck in thick ice in Antarctica.
The Polar Star has been asked to cut a path through the ice in order to free the Xue Long and the Akademik Shokalskiy, the US Coast Guard said.
The Chinese boat, Xue Long, became stuck after helping to rescue 52 passengers stranded on Akademik Shokalskiy on Thursday.
The Russian research vessel has been trapped since Christmas Eve.