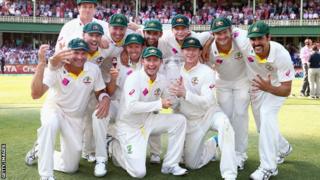 Australia bowled England out for just 166 runs in the second innings of the final Ashes Test, wrapping up a 5-0 series win.
It's only the third whitewash in Ashes history and many believe it's the worst tour England have ever undertaken.
Andy Flower's side came into this series as favourites, playing an Australian team that had been beaten in seven of their previous nine Tests.
But they were well beaten, failing to reach 300 runs once during the series.
Ex-England batsman Geoffrey Boycott called the series defeat "pathetic".
He said: "It's humiliation. It's bad enough to lose all five, but it's how you lose. It's pathetic - there is no other word."
Former Ashes winning captain Michael Vaughan agreed saying: "I have never seen an England team throw in the towel, but they did this afternoon. That last innings there showed how frazzled the team is."
Australia had been called the worst team ever to tour England during last summer's 3-0 series defeat to Andy Flower's men.
But they fully deserved each one of their thumping victories this time around, winning by 381 runs, 218 runs, 150 runs, eight wickets and 281 runs.