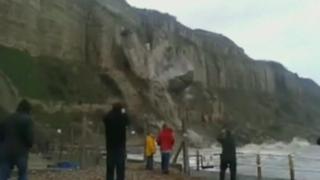 Part of cliff collapses into sea
Part of a cliff near Hastings in Sussex has collapsed into the sea because of the force of the storm that has hit the UK.
Members of the public watched as it broke away on Friday afternoon.
More stormy weather and snow is expected in parts of the UK over the weekend.
Members of the public have been urged to stay away from coastlines, coastal paths and promenades.
Watch more Newsround videos