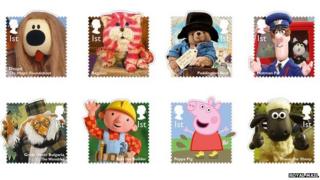 Some of the favourite characters from children's TV shows will appear on a new set of stamps.
Characters from 12 shows going back as far as 1950s favourite Andy Pandy, to the more modern character of Peppa Pig, will be made into stamps.
Bagpuss, Postman Pat, Paddington Bear and Bob the Builder will also appear.
The Classic Children's TV stamps are being made by Royal Mail to celebrate 60 years of children's television and will be released on 7 January.
The 12 characters
Andy Pandy
Ivor the Engine
Dougal - from The Magic Roundabout
Windy Miller - from Camberwick Green
Mr Benn
Great Uncle Bulgaria - from The Wombles
Bagpuss
Paddington Bear
Postman Pat
Bob the Builder
Peppa Pig
Shaun the Sheep