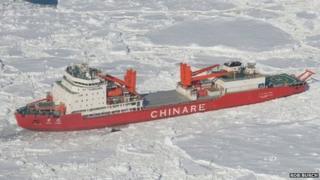 A Chinese ice-breaker ship sent to help passengers stranded on a Russian vessel in Antarctica, is now stuck itself.
The Xue Long was originally sent to break a clear route through the ice to the smaller Akademik Shokalskiy vessel, which became trapped on Christmas Eve.
Passengers on that ship were rescued by helicopter and taken to another bigger ice-breaker ship.
But the Xue Long itself hasn't been able to make its way through the ice and is now trapped.
The master of the ship has said the crew are safe and are waiting for conditions to improve.