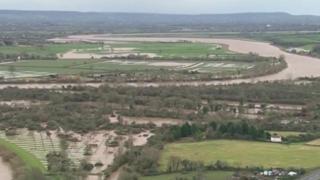 Severe Flooding hits parts of UK
Severe flooding has hit parts of the UK, with south-west England and Wales worst affected.
Earlier the Environment Agency had issued 21 severe flood warnings but this has now been reduced to eight.
The extreme weather has been caused by a storm front that's swept across from the Atlantic to the UK, with heavy rain and strong winds causing high tides.
In Scotland, A tidal surge is expected at midday around Western and Southern coastal areas.