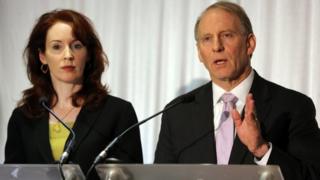 Talks aimed at resolving some of the biggest issues stopping the Northern Ireland peace process have ended without agreement.
Northern Ireland's five main parties met through the night in a final effort to settle differences over parades, flags and the legacy of the Troubles.
Former US diplomat Dr Richard Haass, who held the talks, said a final agreement was "not there" but there had been "significant progress".
Dr Haass was brought to Northern Ireland in July by the first and deputy first ministers to try and help sort out the problems.
The three key issues
The past - more than 3,500 people died in the Troubles, and in almost 3,300 cases no-one was prosecuted. Reaching agreement on how to investigate these killings and what to do about other people affected by the Troubles has so far proved impossible.
Flags - this issue was highlighted last year when Belfast City Council's decision to fly the union flag from city hall and other council buildings only on 18 designated days sparked street protests.
Parades - most parades are peaceful but a small number have caused troubles when they have passed through certain areas.