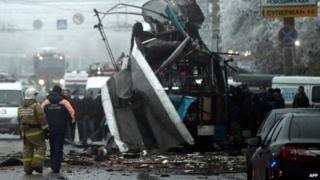 A bomb blast in the Russian city of Volgograd has killed at least 14 people.
The attack comes a day after 17 people died after a bomb exploded at the central station in the city.
Security has been tightened at railway stations and airports across Russia.
Russia's Investigative Committee said both explosions were being treated as acts of terrorism.
There is concern that militant groups could be carrying out attacks in the run-up to the 2014 winter Olympic Games in the city of Sochi.