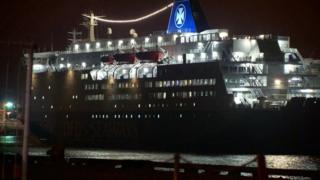 Two people have been arrested after a fire broke out on board a ferry in the North Sea.
It had been travelling from Newcastle to Amsterdam, in the Netherlands, on Saturday night when a fire started in one of the cabins.
Six people were airlifted and taken to hospital but no one was seriously injured.
Of the two people taken in by police, one was arrested on suspicion of intentionally causing the fire.
The ship had sailed just 30 miles but had to return to Newcastle following the incident.
There were 946 passengers on board and the ferry company say the fire was extinguished after 15 minutes.