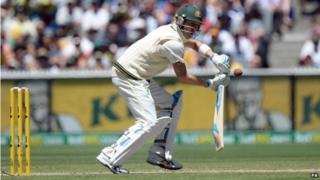 Australia have cruised to victory against England in the fourth Test of the Ashes.
The win in Melbourne means the Australian cricketers are now 4-0 up in the five-part series.
The final Test will be held in Sydney starting on 3 January.
England will need to fight back hard otherwise they're in danger of losing the Ashes series 5-0 - what's known as a whitewash.
Guide: What are the Ashes?
As it's a best of five competition, Australia already won the Ashes when they took the lead 3-0, even though two Tests were still to be played.
It was Australia's first Ashes triumph since 2006-07 and comes just months after the England team won the series in the summer of 2013.
The defeat is the end of an era for England which has seen them win three Ashes series in a row.