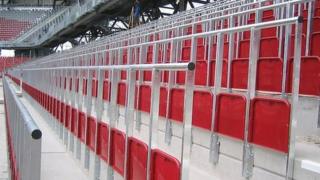 Standing on the terraces could make a permanent return at all football grounds in England.
All 72 clubs in the Football League have been asked for their opinions, which will be discussed at a meeting in February.
Currently, standing is allowed in Leagues one and two.
But once a club has been in the championship for three seasons it must introduce seats throughout the stadium.
All-seater stadiums have been compulsory in the Premier League since 1994. The official stance of the Premier League is that they're happy to go along with current rules and do not plan to ask for a change.
However the Football Supporters' Federation has been campaigning for safe standing for many years. They say supporters fear the atmosphere at games going stale and feel safe standing offers a solution.