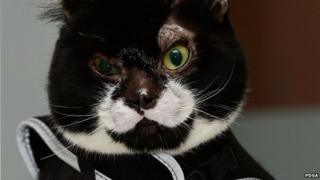 Robbie, a courageous cat from London, has been named Pet Survivor of the Year by animal charity PDSA.
Robbie was about six-months-old when he was caught in a fire, leaving him with extensive burns.
The charity say that despite the pain and discomfort, Robbie was very tolerant and patient as he received treatment to put him back on all-fours.
The award was set up by PDSA after they were inundated with stories of animals surviving against all odds and decided they wanted to find Britain's pluckiest pet.