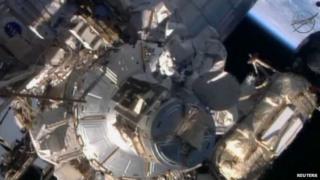 Astronauts at the International Space Station have completed the first of a series of spacewalks to carry out urgent repairs.
The two American astronauts, Rick Mastracchio and Mike Hopkins, were outside the station for nearly six hours.
They had to remove a pump - the size of a refrigerator - which had become faulty.
On their second spacewalk, planned for Tuesday, they will install a new one.
The pump is part of the station's cooling system - half of which automatically shut down last week after detecting abnormal temperatures.
Nasa said that a scheduled third spacewalk may not be necessary now, because of the success of Saturday's spacewalk.