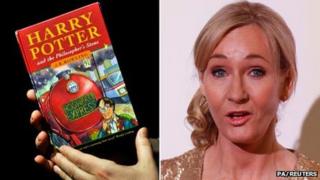 The early years of wizard Harry Potter will be explored in a new stage play, to be co-produced by author JK Rowling, it has been announced.
Rowling will work with producers Sonia Friedman and Colin Callender, though she will not write the script herself.
The author said she had been asked to develop a play based on the life of the young wizard many times but that this project was the first one to make sense to her.
Rowling said the vision of the producers "had the sensitivity, intensity and intimacy I thought appropriate for bringing Harry's story to the stage".
Young Harry
The play will be staged in the UK and will explore "the previously untold story of Harry's early years as an orphan and outcast", according to its producers.
"Featuring some of our favourite characters from the Harry Potter books, this new work will offer a unique insight into the heart and mind of the now legendary young wizard."
It will go into development in 2014.