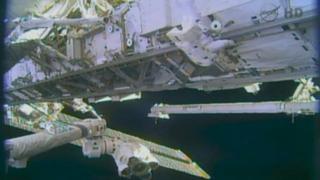 Spacewalk to fix faulty pump on ISS
Astronauts are taking a dangerous spacewalk to fix an important part of the cooling system on the International Space Station.
They have to leave the safety of the ship to make the repairs.
They are dressed in special suits so they can breathe in space which has no oxygen.
The walk will take about seven hours and they will probably have to do a couple more before the pump is fully fixed.
See the pictures from NASA of the repairs going on.
Watch more Newsround videos