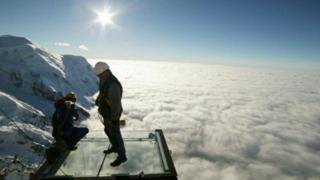 Scary but stunning view of Alps
Thrill seekers are being given the chance to step into the void over a 1,000 metre sheer drop in the heart of the French Alps.
A French tourism company has installed a glass cabin on top of a three kilometre high peak.
Billed as the tallest attraction in Europe, it's not for the faint hearted.
The mountain top glass box gives visitors a unique view from the top of the world.
At 3800m above sea level the glass cabin has taken two years to build and will cost 55 euros (£45) to visit.
Watch more Newsround videos