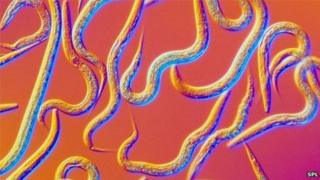 A project to create artificial life has hit a key milestone - the simulated creature can now wriggle.
The Open Worm project aims to build a lifelike copy of a nematode roundworm entirely out of computer code.
This week the creature's creators added code that gets the virtual worm wriggling like the real thing.
The next step is to hook the body up to a simulation of the worm's brain to help understand more about how and why it moves.
The Open Worm project started in May 2013 and is slowly working towards creating a virtual copy of the Caenorhabditis elegans nematode.
This worm is one of the most widely studied creatures on Earth and was the first multi-celled organism to have its entire genome mapped.
Soon the Open Worm creators hope to make a virtual version of C. elegans available online so people can interact with it via a web browser.