For the first time ever four women will battle it out in the Strictly Come Dancing final, but which one will come out on top?
Abbey Clancy, Sophie Ellis-Bextor, Natalie Gumede and Susanna Reid will go head to head in one of the closest fought finales in years.
So here's Newsround's guide on everything you need to know about the final.
What will happen?
Each dancer will perform two routines alongside their professional partner. One will be chosen by the judges and the other is a showdance.
One couple will be voted out of the competition and the final three will go on to dance their favourite routine from the series. The judges will comment on the performances but, unlike the rest of the shows, it will be entirely down to the viewers to decide who wins.
So what can you expect from each of the couples in the final?
ABBEY AND ALJAZ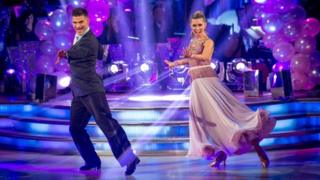 Highest score: Week 10 - Salsa: 40/40
Number of times in dance off: Once
Model Abbey Clancy says she never expected to get so far in the competition. "I'm completely surprised. I've never danced before and I didn't have any expectations which makes getting to the final even more special."
Abbey, who is married to Stoke City footballer Peter Crouch, said she was glad that the public had had the chance to see another side of her beyond modelling.
"People are used to seeing pictures of me. I haven't got a strong TV career so this has been good for that. People haven't been that negative towards me.
"I am who I am, and I'm not coming on Strictly to prove myself as a person. I'm coming on Strictly to learn how to dance and have the best time ever - which I have."
Dances for Grand Final:
Judges' Choice: The Waltz to Kissing You by Des'ree
Showdance: Sweet Child of Mine by Guns N Roses
Couples' Favourite: The Quickstep to Walking On Sunshine by Katrina and the Waves
NATALIE AND ARTEM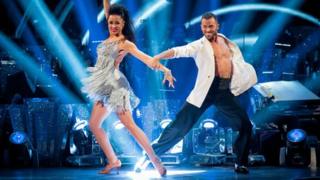 Highest score: Week 12 - Salsa: 40/40
Number of times in dance off: Once
Natalie Gumede is a former Coronation Street actress and says she and partner Artem Chigvintsev did not have their confidence dented by having to fight for their strictly lives in the semi-final dance off.
Natalie was one of the most experienced dancers at the start of the competition but says she has no plans to explore a career as a dancer after the show finishes. She said: "For me this was about falling in love with dancing and self-expression. It was never about getting in a West End musical."
Dances for Grand Final:
Judges' Choice: The Cha Cha to Boney M's Rasputin
Showdance: Steppin' Out with My Baby by Christina Aguilera and Tony Bennett
Couples' Favourite: American Smooth to Jennifer Hudson's And I'm Telling You, I'm Not Going
SOPHIE AND BRENDAN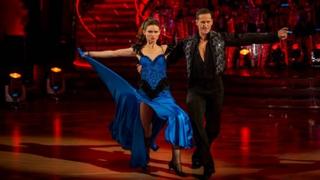 Highest score: Week 12 - American Smooth: 36/40 (also week 10 - Viennese Waltz: 36/40 and week two - Charleston: 36/40)
Number of times in dance off: None
Singer Sophie Ellis-Bextor admits she is relieved that she and partner Brendan Cole have not faced a dance off throughout the series.
"I honestly don't know how I would have coped with it," she said.
The pop star, who was big in the 90s and noughties, said being part of the show had brought back all kinds of memories. She said: "I spoke to my grandpa yesterday who's in his 80s and he said my great granny used to do the Charleston on stage!"
Dances for Grand Final:
Judges' Choice: Viennese Waltz to My Favourite Things by Julie Andrews
Showdance: I Wanna Dance with Somebody by Whitney Houston
Couples' Favourite: The Charleston to Rock It For Me by Caravan Palace
SUSANNA AND KEVIN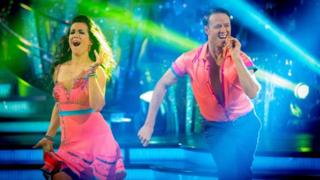 Highest score: Week eight - Paso Doble: 39/40
Number of times in dance off: None
BBC Breakfast presenter Susanna Reid is favourite to win the title and says she is "excited and a bit overwhelmed" that she has made it to the final with partner Kevin Clifton.
"I can't believe we've managed to get right to the end."
Like Natalie Susanna says she has no plans to pursue a new career after Strictly was over.
"My role is on BBC Breakfast. I love that job and, apart from doing Strictly, I've got nothing else in my mind at the moment. I'm straight back to work after Christmas."
Dances for Grand Final:
Judges' Choice: The Quickstep to Tommy Steele's Good Morning
Showdance: Your Song by Ewan MacGregor
Couples' Favourite: The Paso Doble to Carmen's Los Toreadors
Strictly Come Dancing's Grand Final is on BBC One at 18:30, with the results show at 20:40, on Saturday 21 Dec