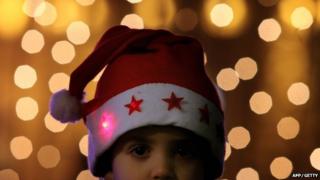 It's the last day of term for lots of you, as schools break up for the Christmas holiday. We want to know what you're doing in class today.
Are you watching films? Are you dressing up? Will you miss your friends over the holidays? Or are you working hard until bell-time? Get in touch using the form below.
Send your pictures to newsroundpix@bbc.co.uk but don't forget to ask permission from your parent or guardian first. We will need to get your parents permission before we can put the picture online so you will need to leave a contact phone number for them. We will try to get as many of them up on the Newsround website and some may get selected for the show.
Your comments
Our class had a half day and we played computer games, listened to music and traded gifts. We also got hoodies for all our class, with our names on them.
Amelia, Coleraine, Northern Ireland
ONSIE DAY! we are all wearing our onsies in school and dancing around to music!
Josie, Scotland
At my school we are going to have a special assembly and we are doing Santa challenges, where if you win a challenge you get a massive chocolate Santa.
Charlotte, Beauly, Inverness-shire
I broke up last Friday at lunch and I am just chilling and watching CBBC!
Hollie, Loughborough, England
I am having a party and having a non uniform afternoon! 10,000,000% epic!
Edward, Hornsea, England
We are celebrating the end of our Design & Technology project about Tea with a Mad Hatter's Tea Party!
Year 5, Hornchurch, Essex
Today is my teacher's last day so we are celebrating her time at school by having a play-a-thon and a big party!
Gee, Longridge, England
We're having a Christmas party all day! We're also eating loads of food and drinking loads of lemonade!
Zak, Tunbridge Wells, England
We're just having one lesson and an assembly then we get to go home at 12:00!
David, Luton, England
My school is having a Christmas jumper day and we finish at 1:10. Also we are having the full school squash assembly!!
Alicia, Sheffield, England
We are having a non-uniform day and we are allowed to bring games in, we are also finishing at 2:30.
Erin, Hamilton, England
Today at school, me and my friends are putting on a play we've written ourselves to the whole of year six. Also, this afternoon, we are watching a film on the smart board and we can bring in popcorn.
Miriam, Leeds, England
My school split up yesterday but we had an amazing pyjama party we were also allowed to watch a movie or play on laptops.
Megan, Cambridge, England
I am watching movies and wearing my Christmas hat.
Megan, England
On the last day of school as a tradition we play games and then go to an assembly and sing Christmas songs and hymns. We also exchange presents!
Erin, Scotland
Today in my class we are watching films, eating the left-over Christmas party food (yum!) and finishing our stories.
James, Wendover, England
We have a half day at school and get to leave at lunchtime so I'm going to the park with my friends.
Colin, Canterbury, England
At my school we have to go in our uniform, however we only have to do 3 hours at school then we'll get sent home. In these lessons I'll be doing my normal work!
Ellie, Northamptonshire, England
The whole school went for a Christmas mass and after that you were allowed to go home. Plus my dad's coming home from London tonight yippee!
Erin, Glasgow
We watched films in my class. Had so many treats and played so many games!!!!
Maya, London, England
My school are watching a movie in every class! Also making books and party dress up! So much fun!
Jamie, London
Today we are allowed to wear tinsel and santa hats! It will be really exciting as we are doing fun lessons and we will be watching fun movies... and best of all Christmas dinner! And we'll all be taking home a lot of chocolate and gifts!
Alla, Winchester, England
At my school we are having half a day! We are also watching a panto and doing lots of fun activities in class!
Harry, Buckinghamshire, England
Our school is going to see the Nutcracker in Southampton and we get to leave school early
James, Winchester
I have my nan and granddad over, and we turn on the fire and have hot chocolate and play board games.
Molly, Surrey, UK