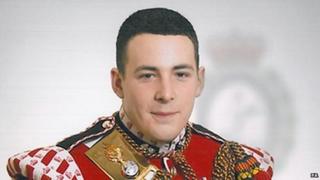 The family of a soldier who was killed in an attack in London say they are satisfied that justice has been done, after two men were found guilty of his murder.
UK Prime Minister David Cameron also welcomed the guilty verdicts given to Michael Adebolajo and Michael Adebowale, who've been on trial since November.
They attacked Fusilier Lee Rigby outside an army barracks in May in a crime that shocked the whole country. They'll be sentenced next month.
Family reaction
Fusilier Rigby's wife, Rebecca, said: "This has been the toughest time of our lives. No one should have to go through what we have been through as a family."
The court heard that the two men had gone out deliberately looking for a soldier to attack.
Adebolajo and Adebowale were motivated by Islamist extremism, and the Prime Minister, David Cameron, has said that "we have to redouble our efforts" to confront extremism and beat it in our country.
He also said the whole country was united in condemning what had happened.
This was an extremely rare attack but if you're worried or upset by anything you hear in the news, read the Newsround guide for help and advice.