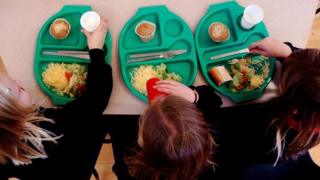 Several schools in Wales have clamped down on second helpings of school dinners as a way to fight childhood obesity.
BBC Wales sent out a survey to 22 education authorities in Wales - these are the organisations that oversee how schools are run.
It showed several schools had brought in a ban on second helpings, while others had reduced portion sizes.
BBC Wales had responses from 17 of the education authorities. Most of them told the BBC they let individual schools decide what rules they could have in place for school lunches.
Appetite For Life
For many schools these are new rules that were brought about because of the Welsh government's Appetite For Life programme, which aims to tackle childhood obesity and promote healthy eating.
However, some pupils and parents have complained about these changes as they say children aged 10 and 11 need more food than much younger children.
Figures from earlier this year show more than 28% of five-year-olds in Wales are overweight, with 12.5% of children classed as obese. Wales has a bigger problem than either England or Scotland.
A Welsh government spokesperson said: "We would never want to see children having school meals going hungry.
"We have provided schools with suggested portion sizes which cater for changing nutritional requirements as children get older. So, for example, a child in year 6 would have a larger portion than a child in reception."
The government is working on new healthy eating guidance that they aim to announce early next year.
Extra bread
School meal policies were different in different areas, but here are some examples:
In Cardiff school dinner staff are allowed to offer children extra bread if they want seconds.
In some schools in Anglesey any leftover school meals are offered to pupils who have packed lunches to give them a chance to try them.
In other areas children can only have small portions as seconds, and in others they are asked not to request more at all.
Most counties say all primary pupils get the same size portions, but some: Anglesey, Denbighshire and Ceredigion vary servings.
Powys says cooks cannot give "significantly bigger portions" to older ones. But they do get slightly more potatoes and vegetables.