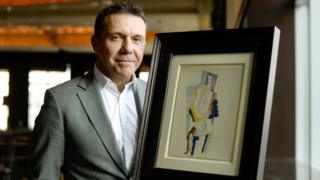 A man from America has won a Picasso painting worth a million US dollars in an online Christmas raffle.
Pablo Picasso is one of the most famous artists ever and his work is among the most valuable in the world.
Olivier Picasso, shown in the picture with the painting called L'Homme au Gibus (Man with Opera Hat) helped to promote the raffle.
It was set up by a charity that is working to save an ancient city called Tyre which is in south Lebanon.
Tyre is a world heritage site, recognised for its important place in history; but it was badly damaged during the Lebanese Civil War thirty years ago, and many people say it hasn't been restored to its former beauty.
Olivier Picasso said his grandfather would have approved of his work being put to good use: "My grandfather was a pioneer in everything, in his love life, in his artwork, so... I'm sure he would have helped the cause."
The charity issued 50,000 tickets at 100 euros each, hoping to raise $5 million.
The winner is an American man called Jeffrey Gonano, who said he bought a ticket after looking for a picture to hang on his wall.